MINNEAPOLIS, MN -- (MARKET WIRE) -- 05/13/2009 -- ShopNBC, the premium lifestyle brand in electronic retailing, today announced the launch of its new gourmet food category with "Discovering Gourmet Foods," which debuts Wednesday, May 13 at 8 pm ET on the 24-hour shopping channel with a follow-up show on Thursday, May 14 at 2 pm ET.
The prime time show series on ShopNBC will feature some of the finest gourmet meats, seafood and desserts on the market. During the 1-hour shows, ShopNBC hosts Connie Kunkle, Allison Waggoner and Daniel Green will be paired up with special on-air guests from each premium brand offered: Jordan Beeman of Texas Signature Beef Company, Annette Tobe of Ocean's Best Seafood, Felix Papadakis of Papa's Desserts, and Stewart Erickson of Gary West Smoked Meats.
Together, the host and special guest will warm the screen for viewers who will be treated to a five-star restaurant experience from the comfort of their home with ShopNBC's new and exclusive collection of fine foods directly shipped to their front door. Details on all the food items and the full show schedule of "Discovering Gourmet Foods" is available at http://www.ShopNBC.com.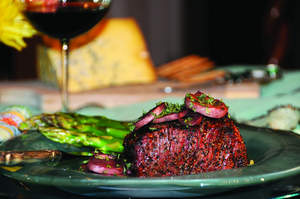 ShopNBC offers premium gourmet foods.
"ShopNBC has a proud legacy of offering premium products to its customers, from unique home goods, stylish fashion apparel and trending-setting jewelry," said Kris Kulesza, ShopNBC's Chief Merchant. "Based on customer demand, we developed a gourmet food category on the network with some of the best vendors in the industry. Offering premium gourmet foods is a natural fit and highly complementary to our existing assortment, and we look forward to our customers indulging themselves with juicy steaks, succulent desserts, and mouthwatering seafood."
Featured Products
-- Texas Signature Beef
For four generations, Texas Signature Beef has been raising and processing beef in the heart of Texas. Special guest Jordan Beeman will delight all the senses of ShopNBC viewers with its savory Texas Signature 8 count of 10-oz boneless sirloin strip steaks ($67). Aged 21 to 28 days for delectable tenderness and flavor, these grain fed sirloin strip loin steaks are the perfect entrée whether you're serving the family on the weekends or hosting an elegant gathering. Thick cut and juicy, these steaks are trimmed to no more than 1/4" fat. Eight 10-oz boneless sirloin strip loin strip steaks are individually vacuum-packed and quick frozen to ensure flavor and wholesomeness.
Beeman then prepares viewers for the grill. Straight from Texas Signature, this set of twenty 4-oz, 1/4 pound, steak burgers ($42) will give you delicious, mouth-watering, hunger-satisfying burgers right in your own home! These steak burgers feature USDA grain fed steak primals -- not trim. Primals are trimmed to an 80% lean portion and then ground to create the perfect base for burgers. Each burger is hand portioned and shaped just like you would make. Twenty 4-oz steak burgers are vacuum-packed with five to a package. The set includes four packages.
Finally, Beeman will bring viewers the extraordinary old-world flavor combining savory and special. Created with only the finest grade of lean pork available, Texas Signature 20 3-oz Sausages ($41) are a delicious alternative to your everyday meals. Ground and mixed with a special blend of spices, herbs and vegetables, they are blended with a special selection of provolone cheeses for a truly unique experience. Try something new with artichoke mozzarella and blended cheeses sausages. Links are fully cooked, vacuum-packed, and quick frozen to retain flavor.
"We hope ShopNBC viewers will enjoy our beef as much as our family and friends have for the last four generations," says Beeman.
-- Ocean's Best Seafood
Fresh from the ocean, Ocean's Best special guest Annette Tobe will serve up scrumptious delights to ShopNBC viewers: Twelve Ocean's Best 3-oz Broiled or Fried Crab Cakes ($66). These hand made broiled or flash fried crab cakes will tempt you with savory ingredients, mouth-watering smells, and a luscious look. Made from the highest quality ingredients with pasteurized crab meat, these cakes are held together with Ocean's Best special roux -- with no fillers or mayonnaise. Each bite will infuse your mouth with the rich, succulent flavors seafood lovers search for. In addition to eating on their own, these cakes would be delicious on top of a salad or made into a sandwich! Crab cakes are flash frozen, vacuum packed and arrive within two days of shipment (packaged with dry ice, but may arrive with little to none remaining).
-- Papa's Desserts
Join Felix Papadakis as he shares his kitchen's bounties with you. Papadakis has created a line of confections, cheesecakes and layer cakes that will dazzle your guests. Choose from an 8" Strawberry Swirl Cheesecake, an 8" Triple Chocolate Cheesecake, an 8" Carrot Cake Cheesecake, an 8" Chocolate Swirl Cheesecake, or an 8" Celebration Cake -- each priced at $34.
Viewers will experience a new level of decadence with his luscious creations, which are made with only fresh ingredients and are all natural. These cakes serve 8-10 and are the ultimate in decadence. "Remember, life is too short to not have cake!" says Papadakis.
-- Gary West Smoked Meats
Located in the small, historic town of Jacksonville, Oregon, the West family settled these parts back in the mid-1800s and brought their smoked meats recipes along the trail with them. Years later, Gary West resurrected the old family recipes in his butcher shop for his customers' enjoyment. They have been serving them this way ever since.
Now ShopNBC viewers will be treated by special guest Stewart Erickson, who will offer richly seasoned Gary West smoked meats. With mouth-watering flavors, you'll take one bite of this handmade jerky, which comes in a package of twelve 1-oz single serve jerky sticks ($42), and not be able to stop. Taste the wonderful difference ranging from traditional, Cajun, teriyaki and black pepper. Or for the real jerky lover, try their package of three 8-oz single serve jerky sticks.
All items aired during the live shows are offered with value shipping. With the purchase of two or more items from the same vendor, customers pay full price shipping and handling for the first item and get half off S&H for each additional item.
About ShopNBC
ShopNBC is a multi-channel electronic retailer operating with a premium lifestyle brand. The shopping network reaches 72 million homes in the United States via cable affiliates and satellite: DISH Network channels 134 and 228; DIRECTV channel 316. http://www.ShopNBC.com is recognized as a top e-commerce site. ShopNBC is owned and operated by ValueVision Media (NASDAQ: VVTV).
---
Contact:
Anthony Giombetti
Media Relations
612-308-1190